My lifestyle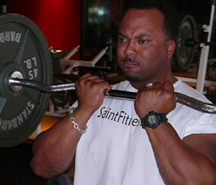 The Human Body can adapt and over come the most difficult situations.
I grew up as the skinny, asthma kid who also happened to be short. My first year away at college was MY TIME to make an internal and external transformation, so I started hitting the weights. Before long, others were asking for my advice and guidance for themselves. Since then, God has used my story, knowledge and influence to help me transform thousands of lives — from the inside-out!
We help individuals "master their bodies" by tapping into the real issues that they're having with their bodies, customize exercise and diet regimens and coach them to their ultimate goals! We bring 20+ years of experience in the fields of functional health, fitness, wellness, mindset motivation and life balance to our coaching.
For those individuals or groups who are serious about enhancing their  quality of life, change that number on the scale, or just have more  energy, Dwain St.Julian will empower you with the knowledge, insight,  vision and faith required to help you achieve your goals!
Personal Stats
Age: 45
Current Residence: Houston, TX
Years Training: Over 25
Height: 5'7"
Education: Prairie View A&M University, Bachelor of Science (B.S.), Psychology